It´s a fascinating archaeological zone not only by the historical background but also by the beauty that surrounds the ruins. This Mayan settlement had its origins around 200 B.C.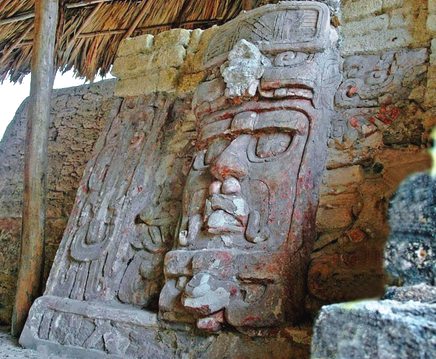 The ruins are intriguing. Walking from the entrance into the site visitors found themselves surrounded by the sound of howler monkeys. The Temple of the Masks is the most famous structure. Originally beside the central staircase, there were eight large masks. Sadly there are only five remaining. They represented the sun god Kinich Ahau.
27 Steps: A structure and area located the furthest from the entrance, the 27 steps is a large platform thought to hold residential buildings for the elite. The view from the top of the platform is terrific and provides an overview of the jungle to the south.
Residential buildings: There is something to be said about the remains of the residential area. Beds are still intact, only the foundations of the buildings preserved, but the area is quite amazing.
Kohunlich has a ball court, administrative buildings, spiritual areas, and palaces. In total there are 8 groups to explore on this site. What amazed archeologists were the hydraulic engineering used at Kohunlich. 90,000 of the site's 210,000 sq meters were cut to channel rainwater into Kohunlich's once enormous reservoir. Considering this city was from the Early Classic Period, this is an incredible feat that confirms the brilliance of this society.