Join us on the perfect combination of culture and adventure tour inside the natural beauties of the Riviera Maya. We will take you to the heart of the Maya land and the majestic archeological site of Tulum with its spectacular views over the Caribbean waters.
Experience the thrill of flying 20m ( 66 ft ) over the jungle canopy in our 580 m . ( 1,930 ft .) long zip-line circuit. The longest zip-line 260m ( 865 ft ) is the longest and fastest in the region!
We will prepare and gear you up to rappel 18m ( 60 ft.) into the depths of an underground river.
Swim and snorkel while exploring the astounding rock formations of a mystical Mayan cenote. (wells)
A delicious mexican lunch surrounded by the sounds of nature will await you at the end of your jungle adventure.
Travel back in time and admire the beauty of the archeological site of Tulum, where a certified guide will make you feel part of history while you tour around this ceremonial center.
Our guides will accompany you at all times sharing information regarding local traditions, flora and fauna, making sure you experience an XTREME day.
This tour includes:
Transportation in air-conditioned van, professional bilingual guide, entrance fees, climbing and snorkeling equipment, lunch and beverages, insurance, taxes.
What to bring : Comfortable clothes and footwear, water shoes, sunglasses and a hat, bathing suit, extra T-shirt, towel, only BIODEGRADABLE sunscreen and mosquito repellent, extra cash (tips, pictures and souvenirs).
Important recommendations: Basic swimming skills required. This tour is not suitable for people with severe physical or motor handicap, serious heart problems, pregnant women or people who are not able to handle moderate physical activity. Weight limits 120 kg or 270 pounds . Children over the age of 6 may participate under the responsibility and direct supervision of a responsible parent or family member. People under the influence of alcohol or drugs will not be permitted to participate in this tour.
Duration : Approximately 8 hours from pick up to drop off at your hotel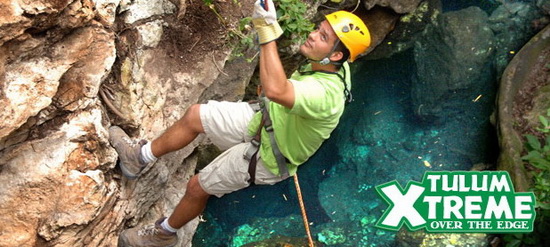 People comments on tripadvisor:
We went on the Mayan Adventure tour offered in the pamphlets in the hotel. My husband and myself and our 4 teens all enjoyed the day. You get picked up at your hotel and driven to Yal Kul lagoon for the first snorkel. This is an underground river joining the ocean. Saw Turtles and a Barracuta. Quite a swim out to the reef though so we wre moving alot and I would have preferred to have had more time in the lagoon with the colourful fish.
the next place was a cenote cave and that was exciting. Just an open cave, no tunnels or anything too scary. Beautiful! Last was an open cenote and the ritual sacrifice of jumping 35 feet into the lake. Well I used the stairs…. Lunch included and it was a great day.
This review is the subjective opinion of a TripAdvisor member and not of TripAdvisor LLC.